Tag Archives:
protect the beach
Thanks Surfrider Foundation Brazil!
Join Beachhouse.com at The Great Shark Affair, a special public awareness event demonstrating the effects of our actions on our oceans, coastlines, bays, reef systems, and the blue eco-systems. Enjoy delicious gourmet food and beverages while learning about sharks & our oceans, bidding on auction items and playing "Shark Jeopardy"!
You should also check out AdoptAShark.com is a fun way to make a difference, learn about the ocean ecosystem, and get involved in conservation. Not only can you actively contribute to their preservation, you can actually track and name your own real, living shark!
Why protect sharks? Sharks are an essential part of the ocean's food chain, and they are currently threatened by overfishing, finning and bycatch. They are needed to maintain balance by preying on sick and weak animals, preventing the spread of disease and keeping population sizes in check. These creatures seem to have an ability to resist cancers and other diseases, and further research may yield lasting benefits to all humans.
Your Adopt a Shark donation is used to purchase new tags for continued research on the movement and behavior of sharks. You will learn about and be able to see tracking maps of your shark, depending on when and how the shark was tagged. If your tag is "live", each day you can come back to our website to see where your shark is, and if any new information has been posted about your shark. Satellite track can show movement of your shark for 3-6 months! In addition, you will also receive a Shark Adoption Kit, including an Adoption Certificate, a picture of your shark, an Adoptashark T-shirt, information about your shark, and lots of fun stickers and activities!
What can else can you do to help? Avoid shark products, make responsible seafood choices, keep our beaches and oceans clean, write your government representatives to protect sharks, and spread the word to raise awareness!
Click HERE to adopt a shark now, or find them on Twitter & Facebook!
Every day water mixes with common household (cleaning products, fertilizers) and environmental pollutants (oil, pesticides) that flow from our homes, offices, roads and landscapes and, eventually, into our oceans.  Compound this daily, times our population, and multiplied over years and years, and our oceans, lakes, rivers, streams and ponds are paying the price.
And when you stop and think how much of a part our water plays in our everyday lives, it behooves us to keep it clean.  On The Surfrider Foundation's Ocean Friendly Gardens page of their Website, they reports that, "runoff from residential landscapes affects the quality of our oceans and the quality of our lives. The sediment in water reduces clarity; nutrients increase algae populations and red tides; bacteria close beaches; debris can choke and suffocate aquatic species; and pesticides picked up off a landscape can poison fish consumed by humans — all of which degrade the natural beauty, and our enjoyment, of the ocean."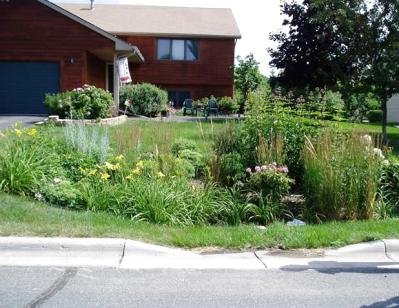 One of the ways that each of us can do our part to minimize polluted run-off from reaching our waters is by opting to plant a rain garden in your yard instead of a conventionally landscaped garden.
Rain gardens incorporate native shrubs, perennials, and flowers planted in a small depression, which is generally formed on a natural slope of your yard.  The natural design temporarily holds rain water runoff that flows from the roof of your house, patios and the rest of your lawn, allowing your garden to drink from the accumulated water…water that would usually run off into the streets and gutters, picking up pollutants along the way, and eventually landing in our oceans.
Want to make a rain garden at your home or office?  Here are some rain garden tips:
Dig a 6 – 12 inch ditch where you want to make your rain garden – typically on the downside of your property so that the water drains away from your house – or you can check to see if your space has a natural depression – any small valley or dip will work perfectly.
If you are creating your own ditch, orient it so that it runs parallel (lengthwise) to the widest part of your house – this will help maximise the amount of rainwater runoff you will be able to capture from your roof.
Size:  the square footage of your rain garden should generally equal about 20% of the area draining into it – for example, if your roof covers 800 square feet, a rain garden designed to collect all of the roof's runoff should cover 160 square feet.
Any native plants will do well in a rain garden – and they will not need fertilizer to thrive.  Opt for shrubs and grasses over trees and trees tend to hog all of the water.
Create your garden at lest 10 feet from your house or basement in order to avoid water damage to these structures.
As rain gardens gain exposure and popularity, many landscaping companies are becoming rain garden advocates and experts and home improvement centers often host "how to" seminars on rain gardens if you need more information.
Rain gardens are effective in removing up to 90% of nutrients and chemicals and up to 80% of sediments from the rainwater runoff. Compared to a conventional lawn, rain gardens allow for 30% more water to soak into the ground, making them an easy and beautiful way to help preserve our oceans and waters.