The 2004 hit movie Sideways did wonders for California's wine industry, showing that the long fêted Napa Valley is not the only California wine region worthy of acclaim.  With almost 200 wineries between San Luis Obispo and Paso Robles there is a tasting atmosphere and tasty vintage to appease every palate. 
Mimicking the famed growing climates of long renowned wine regions, the micro-climates, soil varieties, rainfall, elevation and long growing season of this area accommodate many of the same varieties of grapes previously known only to Europe and the surrounding areas.  The Central Coast is, however, unique because of the contrasting daytime high temperatures (ranging between 85 and 105 degrees) and chilling nighttime temperatures that drop by 50 or 60 degrees.  Winemakers believe this fluctuation to be a key factor in exuding the intensity found in grapes of this area.  Known mostly for it's superb Zinfandel grapes, the Central Coast conditions also supports the growth of dozens of wine grapes including Cabernet Sauvignon, Merlot, Syrah, Viognier, Roussanne, even Mourvedre.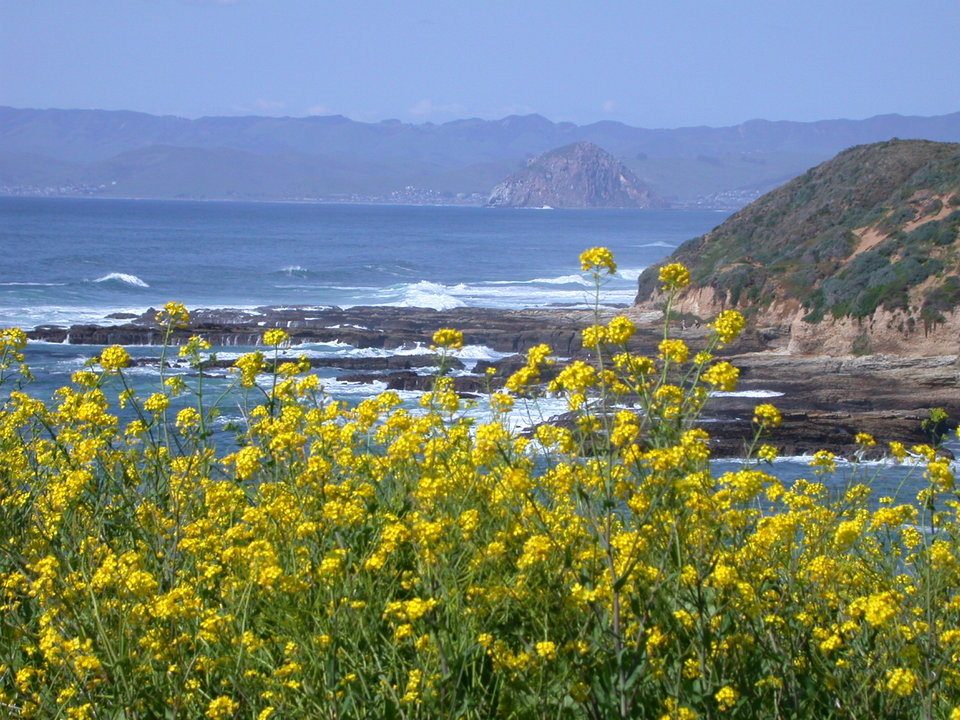 The Cuesta Grade, separates San Luis Obispo into "north county" and "south county", making it a little less daunting to tasters wanting to make a dent in the vast array of tasting rooms in the county, allowing them to conquer one area at a time.  North of the grade, in Paso Robles, are several wineries and tasting rooms, all located in "West Paso" as the local's refer to it – meaning west of HWY 101.  Some of the most popular include Tablas Creek Vineyard, Justin Winery, Eberle Winery, and Opolo Vineyards. West Paso is known for its rolling hills, meandering roads and sun-filtering oak trees.  A whole other crop of wineries can be found in East Paso.  East of the 101 tends to have more level parcels with the majority of the wineries dotted along or just off of HWY 46.  This includes Vina Robles, Martin & Weyrich Winery, and the notorious Tobin James Cellars.
San Luis Obispo proper is located at the base of the Cuesta Grade.  Cooler temperatures (sometimes by as much as 10 degrees on a summer day)  alter the chemistry of the product and make for a different tasting experience.  Many of the wineries and vineyards of San Luis Obispo boarder Edna Valley, which runs east to west and is paralleled by the Santa Lucia Mountains.  The location of Lake Lopez to the south and Islay Hill to the north helps to keep the valley cool with breezes also rolling in off of the Pacific Ocean.  Edna Valley Vineyards, with its picturesque panoramic views of rolling vineyards from its tasting room, along with Meredian Vineyards, Baileyana Winery, Claiborne & Churchill Vintners, and a host of others, can be found nestled among the vibrant fields of San Luis Obispo's grapevines.
In addition to introducing new varietals to the area, many central coast winemakers are testing innovating ways to alter the finished taste of the wine.  While some prefer the tried and true traditional method of aging wine in Oak barrels, some are embracing the newer practice of employing stainless steel barrels in order to produce a crisper wine…and some use a combination of the two methods.  Cutting edge or classics – all can be found and enjoyed while exploring the tasting rooms and vineyards that the Central Coast has to offer.
The Central Coast is a great place for a weekend trip or a vacation stay – besides the selection of vineyards and tasting rooms, there is also a number of beaches and state parks to visit.  San Simeon (and Hearst Castle), Cambria, Cayucos, Avila, Montana de Oro, Morro Bay, Los Osos, Shell Beach and Pismo Beach each have their individual charm and make for a great day at the beach!