1) Giant Lego Man
On October 29, 2008, to the delight of children playing on a Brighton beach, an 8 foot tall man wearing a green top washed ashore…an 8′ tall Lego man that is. Lego denies having any knowledge of the missing giant (although that's what they would say, were this the result of a genius marketing ploy) and is content to let him remain on the beach where he has become somewhat of a local legend. Other theories surmise that the Lego man started his swim off of the coast of Denmark where there is a Legoland park, while others think he simply fell off of a cargo ship.
2) Rubber Duckies
Destined for bathtubs around the world, a flock of 29,000 rubber duckies ended up getting more of an adventure than they had bargained for.  Boxes of the ducks, along with blue turtles and green frogs, were washed overboard in the eastern Pacific Ocean in January, 1992 on their way from China, where they were made for the US firm, The First Years Inc.  Since then, the little guys – dubbed the "Friendly Floaties" – have drifted over 17,000 miles.  Some circled the northern Pacific, before washing up on the Alaskan shore, while the others traveled through freezing Arctic waters, past the tropical Hawaiian Islands, and even passing over the location where the Titanic sank, before heading down the West coast of Canada and the US.  Watertight and formed from durable plastic, the toys have helped researchers to chart ocean currents, and are now quite valuable.  So keep an eye out for them – the US firm that made them is offering a reward for finding one.
3)  BMW Motorcycles
While en route from Belgium to Portugal, on January 18, 2007, a windstorm brought down the MSC Napoli.  Soon after, the ships cargo began washing up at Branscombe, luring hundreds of people to scavenge the loot, which included several BMW R1200RT motorcycles!  As crowds became unruly and began removing anything that wasn't nailed down from surrounding personal residences, the police closed the beach, and announced that they would force people to return goods they had salvaged as per the Merchant Shipping Act 1995 such actions constituted an offence equivalent to theft.
4)  Human Feet
On August 26, 2007 a beachgoer was strolling the beach in Jedidiah Island in British Columbia when he stumbled upon a human foot, still in its shoe.  Immediately authorities began looking into missing persons reports and conducting DNA tests in order to find the body that the foot belonged to.  Police remained tight lipped in regards of any findings and the incident was thought to be unfortunate, but not unusual, as human body parts will sometimes wash ashore, victims of plane crashes, drownings, etc.  However, on August 26, 2008, the investigation took an unusual turn as a second food washed up on nearby Gabriola Island.  Since then, 5 other human feet – all wearing socks and shoes – have washed ashore, 7 total, all in relatively close proximity to each other.  Here is a timeline:
1) Aug. 20 2007 – right foot, male, Jedediah Island (Campus brand)
2) Aug. 26, 2008 – right foot, male, Gabriola Island (Reebok)
3) Feb 2 2008 – right foot, male, Valdes Island (Nike)
4) May 22 2008: right foot, female, Kirkland Island, Richmond (New Balance)
5) Jun 16 2008: left foot, male, Savage Rd, Ladner (only left foot) (Nike) (same man as Valdes foot)
6) Aug. 4 2008 – right foot, male, Pillar Point Beach, Washington (hiking shoe)
7) Nov. 12 2008 – left foot, female, Finn Slough in the south arm of the Fraser, near the end of Garden City Road, Richmond (New Balance)
5)  Message in a Bottle
In August 2008 a team of volunteers cleaning up a beach at West Sands in St Andrews happened upon a bottle with a message in it that had been written by an 11 year old boy – 23 years ago.  Donald Wylie had originally thrown the bottle into the sea off Orkney in Northern Scottland.  His message contained his name, age and the request that, if discovered, its finder pass it onto a boy of similar age.  The University of St. Andrews students and staff tracked down the not 33 year old Mr Wylie, who was, remarkably, still living in Orkney.  Once it had been confirmd that he was, indeed, the sender, Wylie went to the University to see the bottle and where it had been found.  Wylie told the students that he had thrown several bottles out to sea after his mother suggested the idea…and that to this day, his mother encourages her grandchildren to do the same.   Other bottles that Donald has thrown into the ocean have been found as well – he has recieved calls from Norway and Denmark – but this was the first bottle to be found so close to where it had started its journey.
6)  Hindu Statues
September 2006 – Devotees in Bombay celebrated Ganesh Chaturthi, a Hindu festival that celebrates the birth of Ganesh.  Traditionally, a few months prior to Ganesh Chaturthi, clay models of Lord Ganesha is various poses are made and decorated, ranging in size from 1 inch to over 25 feet.  On the 11th day, worshipers carry the statues through the streets, dancing, singing, before immersing dozens of these colorful statues into a river or ocean.  As was the case when statues were sent off in the Arabian Sea at night.  The next morning, the tide brought them back, some chipped, some missing appendages, making for a spectacular, if not cartoonishly macabre scene.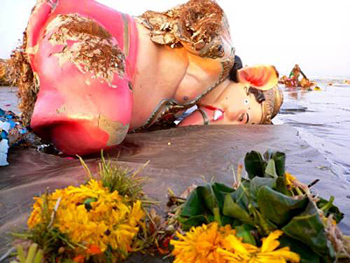 7)  Cocaine
Love combing the beach for treasure?  How about $1 million in treasure?  In August 2009 the Indian River County Sheriff's Office received a call – someone had found a suspicious package that had washed up on the shores of Sebastian Inlet in Florida.  When authorities arrived, they discovered the package contained 60 pounds of cocaine – 24 bricks – with a street value of about $1 million!  And while the owner of the narcotics is not known, the Deputy on duty said that, while the loss would be substantial to the smugglers, they would probably just consider it the cost of doing business.
8 )  Tons of Timber
In January of 2008 thousands of pieces of timber – more than 2,000 tons in all – washed ashore along England's southern beaches after drifting 100 miles from a cargo ship that sank off of the coast.  The Ice Princess, en route to Egypt from Scandinavia, was carrying thousands of tons of untreated saw timber when she hit rough weather and the cargo shifted causing her to drifting east and eventually sink.  Twenty crew had to be rescued by helicopter and lifeboat.  The local coastguard said that the timber had washed up all the way from Littlehampton in West Sussex to Beachy Head in East Sussex.  Time for a beach clean-up?  Maybe, but not by just anyone…the Sussex police warned than anyone caught removing the timber – aside from contractors authorized by the Maritime Coastguard Agency – were subject to prosecution and arrest!