Treasure Island North Beach Home With Pool - Sleeps 6 Wifi
Tap or Swipe to see more photos
House For Rent, Daily, Weekly
11925 Sunshine Ln
Treasure Island, Florida 33706
Ad # 627929

Nightly Rates: $199 - 499
2 1.5 Sleeps 6
Minimum Stay: 2 nights
Pool: Yes Sq Ft: 0
Shared Pool
Pet Friendly: No
A tropical, private, and secluded oasis between the Marriott and and Sunset Vistas.
Jungle Beach Bungalow Just Steps to the Sand

Step back in time to Florida's tropical paradise in this unique jungle beach house. - The circa 1930 cedar shake home has been fully renovated with modern features, island decor and chic rustic/nautical touches. - Relax on the over-sized deck and be amazed by the largest tree still standing on the island. - This vacation spot is unlike any other on the beach as your senses will be filled with lush beauty, the historic charm and seaside serenity. - Enjoy the comfort of the two bedrooms, one and half bath layout suitable for up to six people. - A truly pleasant spot for families or travelers who enjoy the flavor of old Florida island living.

Rate Types: N - Nightly, W - Weekly, We - Weekend, Mw - Midweek, M - Monthly

From
To
Type
Low Per
Day Rate
High Per
Day Rate
Min.
Stay
Checkin
2/2/22
2/8/22
N
$299
$299
2
M,Tu,Sa,Su
2/2/22
2/8/22
Mw
$299
$299
2
M,Tu,Sa,Su
2/9/22
2/15/22
N
$299
$499
2
Any Day
2/9/22
2/15/22
W
$442
$442
7
Any Day
2/9/22
2/15/22
We
$499
$499
2
Any Day
2/9/22
2/15/22
Mw
$499
$499
2
Any Day
2/16/22
2/22/22
N
$499
$499
2
Any Day
2/16/22
2/22/22
W
$499
$499
7
Any Day
2/16/22
2/22/22
We
$499
$499
2
Any Day
2/16/22
2/22/22
Mw
$499
$499
2
Any Day
2/23/22
2/28/22
N
$499
$499
2
M,W,Th,F,Sa,Su
2/23/22
2/28/22
We
$499
$499
2
M,W,Th,F,Sa,Su
3/1/22
3/7/22
N
$499
$499
2
Any Day
3/1/22
3/7/22
W
$499
$499
7
Any Day
3/1/22
3/7/22
We
$499
$499
2
Any Day
3/1/22
3/7/22
Mw
$499
$499
2
Any Day
3/8/22
3/14/22
N
$499
$499
2
Any Day
3/8/22
3/14/22
W
$499
$499
7
Any Day
3/8/22
3/14/22
We
$499
$499
2
Any Day
3/8/22
3/14/22
Mw
$499
$499
2
Any Day
3/16/22
3/28/22
N
$499
$499
2
Any Day
3/16/22
3/28/22
W
$499
$499
7
Any Day
3/16/22
3/28/22
We
$499
$499
2
Any Day
3/16/22
3/28/22
Mw
$499
$499
2
Any Day
3/29/22
4/4/22
N
$499
$499
2
Any Day
3/29/22
4/4/22
W
$499
$499
7
Any Day
3/29/22
4/4/22
We
$499
$499
2
Any Day
3/29/22
4/4/22
Mw
$499
$499
2
Any Day
4/5/22
4/11/22
N
$499
$499
2
Any Day
4/5/22
4/11/22
W
$499
$499
7
Any Day
4/5/22
4/11/22
We
$499
$499
2
Any Day
4/5/22
4/11/22
Mw
$499
$499
2
Any Day
4/12/22
4/18/22
N
$499
$499
2
Any Day
4/12/22
4/18/22
W
$499
$499
7
Any Day
4/12/22
4/18/22
We
$499
$499
2
Any Day
4/12/22
4/18/22
Mw
$499
$499
2
Any Day
4/19/22
4/25/22
N
$499
$499
2
Any Day
4/19/22
4/25/22
W
$499
$499
7
Any Day
4/19/22
4/25/22
We
$499
$499
2
Any Day
4/19/22
4/25/22
Mw
$499
$499
2
Any Day
4/26/22
5/2/22
N
$299
$499
2
Any Day
4/26/22
5/2/22
W
$442
$442
7
Any Day
4/26/22
5/2/22
We
$499
$499
2
Any Day
4/26/22
5/2/22
Mw
$499
$499
2
Any Day
5/3/22
5/9/22
N
$299
$299
2
Any Day
5/3/22
5/9/22
W
$299
$299
7
Any Day
5/3/22
5/9/22
We
$299
$299
2
Any Day
5/3/22
5/9/22
Mw
$299
$299
2
Any Day
5/10/22
5/16/22
N
$299
$299
2
Any Day
5/10/22
5/16/22
W
$299
$299
7
Any Day
5/10/22
5/16/22
We
$299
$299
2
Any Day
5/10/22
5/16/22
Mw
$299
$299
2
Any Day
5/17/22
5/23/22
N
$299
$299
2
Any Day
5/17/22
5/23/22
W
$299
$299
7
Any Day
5/17/22
5/23/22
We
$299
$299
2
Any Day
5/17/22
5/23/22
Mw
$299
$299
2
Any Day
5/24/22
5/30/22
N
$299
$499
2
Any Day
5/24/22
5/30/22
W
$385
$385
7
Any Day
5/24/22
5/30/22
We
$499
$499
2
Any Day
5/24/22
5/30/22
Mw
$299
$299
2
Any Day
5/31/22
6/6/22
N
$299
$299
2
Any Day
5/31/22
6/6/22
W
$299
$299
7
Any Day
5/31/22
6/6/22
We
$299
$299
2
Any Day
5/31/22
6/6/22
Mw
$299
$299
2
Any Day
6/7/22
6/13/22
N
$299
$299
2
Any Day
6/7/22
6/13/22
W
$299
$299
7
Any Day
6/7/22
6/13/22
We
$299
$299
2
Any Day
6/7/22
6/13/22
Mw
$299
$299
2
Any Day
6/14/22
6/20/22
N
$299
$499
2
Any Day
6/14/22
6/20/22
W
$413
$413
7
Any Day
6/14/22
6/20/22
We
$499
$499
2
Any Day
6/14/22
6/20/22
Mw
$299
$299
2
Any Day
6/21/22
6/27/22
N
$499
$499
2
Any Day
6/21/22
6/27/22
W
$499
$499
7
Any Day
6/21/22
6/27/22
We
$499
$499
2
Any Day
6/21/22
6/27/22
Mw
$499
$499
2
Any Day
6/28/22
7/4/22
N
$499
$499
2
Any Day
6/28/22
7/4/22
W
$499
$499
7
Any Day
6/28/22
7/4/22
We
$499
$499
2
Any Day
6/28/22
7/4/22
Mw
$499
$499
2
Any Day
7/5/22
7/11/22
N
$499
$499
2
Any Day
7/5/22
7/11/22
W
$499
$499
7
Any Day
7/5/22
7/11/22
We
$499
$499
2
Any Day
7/5/22
7/11/22
Mw
$499
$499
2
Any Day
7/12/22
7/18/22
N
$499
$499
2
Any Day
7/12/22
7/18/22
W
$499
$499
7
Any Day
7/12/22
7/18/22
We
$499
$499
2
Any Day
7/12/22
7/18/22
Mw
$499
$499
2
Any Day
7/19/22
7/25/22
N
$499
$499
2
Any Day
7/19/22
7/25/22
W
$499
$499
7
Any Day
7/19/22
7/25/22
We
$499
$499
2
Any Day
7/19/22
7/25/22
Mw
$499
$499
2
Any Day
7/26/22
8/1/22
N
$499
$499
2
Any Day
7/26/22
8/1/22
W
$499
$499
7
Any Day
7/26/22
8/1/22
We
$499
$499
2
Any Day
7/26/22
8/1/22
Mw
$499
$499
2
Any Day
8/2/22
8/8/22
N
$199
$499
2
Any Day
8/2/22
8/8/22
W
$413
$413
7
Any Day
8/2/22
8/8/22
We
$499
$499
2
Any Day
8/2/22
8/8/22
Mw
$499
$499
2
Any Day
8/9/22
8/15/22
N
$199
$249
2
Any Day
8/9/22
8/15/22
W
$213
$213
7
Any Day
8/9/22
8/15/22
We
$249
$249
2
Any Day
8/9/22
8/15/22
Mw
$199
$199
2
Any Day
8/16/22
8/22/22
N
$199
$249
2
Any Day
8/16/22
8/22/22
W
$213
$213
7
Any Day
8/16/22
8/22/22
We
$249
$249
2
Any Day
8/16/22
8/22/22
Mw
$199
$199
2
Any Day
8/23/22
8/29/22
N
$199
$249
2
Any Day
8/23/22
8/29/22
W
$213
$213
7
Any Day
8/23/22
8/29/22
We
$249
$249
2
Any Day
8/23/22
8/29/22
Mw
$199
$199
2
Any Day
8/30/22
9/5/22
N
$199
$299
2
Any Day
8/30/22
9/5/22
W
$242
$242
7
Any Day
8/30/22
9/5/22
We
$299
$299
2
Any Day
8/30/22
9/5/22
Mw
$199
$199
2
Any Day
9/6/22
9/12/22
N
$199
$249
2
Any Day
9/6/22
9/12/22
W
$213
$213
7
Any Day
9/6/22
9/12/22
We
$249
$249
2
Any Day
9/6/22
9/12/22
Mw
$199
$199
2
Any Day
9/13/22
9/19/22
N
$199
$249
2
Any Day
9/13/22
9/19/22
W
$213
$213
7
Any Day
9/13/22
9/19/22
We
$249
$249
2
Any Day
9/13/22
9/19/22
Mw
$199
$199
2
Any Day
9/20/22
9/26/22
N
$199
$249
2
Any Day
9/20/22
9/26/22
W
$213
$213
7
Any Day
9/20/22
9/26/22
We
$249
$249
2
Any Day
9/20/22
9/26/22
Mw
$199
$199
2
Any Day
9/27/22
10/3/22
N
$199
$249
2
Any Day
9/27/22
10/3/22
W
$213
$213
7
Any Day
9/27/22
10/3/22
We
$249
$249
2
Any Day
9/27/22
10/3/22
Mw
$199
$199
2
Any Day
10/4/22
10/10/22
N
$199
$249
2
Any Day
10/4/22
10/10/22
W
$213
$213
7
Any Day
10/4/22
10/10/22
We
$249
$249
2
Any Day
10/4/22
10/10/22
Mw
$199
$199
2
Any Day
10/11/22
10/17/22
N
$199
$249
2
Any Day
10/11/22
10/17/22
W
$213
$213
7
Any Day
10/11/22
10/17/22
We
$249
$249
2
Any Day
10/11/22
10/17/22
Mw
$199
$199
2
Any Day
10/18/22
10/24/22
N
$199
$249
2
Any Day
10/18/22
10/24/22
W
$213
$213
7
Any Day
10/18/22
10/24/22
We
$249
$249
2
Any Day
10/18/22
10/24/22
Mw
$199
$199
2
Any Day
10/25/22
10/31/22
N
$199
$249
2
Any Day
10/25/22
10/31/22
W
$213
$213
7
Any Day
10/25/22
10/31/22
We
$249
$249
2
Any Day
10/25/22
10/31/22
Mw
$199
$199
2
Any Day
11/1/22
11/7/22
N
$199
$249
2
Any Day
11/1/22
11/7/22
W
$213
$213
7
Any Day
11/1/22
11/7/22
We
$249
$249
2
Any Day
11/1/22
11/7/22
Mw
$199
$199
2
Any Day
11/8/22
11/14/22
N
$199
$249
2
Any Day
11/8/22
11/14/22
W
$213
$213
7
Any Day
11/8/22
11/14/22
We
$249
$249
2
Any Day
11/8/22
11/14/22
Mw
$199
$199
2
Any Day
11/15/22
11/21/22
N
$199
$249
2
Any Day
11/15/22
11/21/22
W
$213
$213
7
Any Day
11/15/22
11/21/22
We
$249
$249
2
Any Day
11/15/22
11/21/22
Mw
$199
$199
2
Any Day
11/22/22
11/28/22
N
$249
$299
2
Any Day
11/22/22
11/28/22
W
$270
$270
7
Any Day
11/22/22
11/28/22
We
$299
$299
2
Any Day
11/22/22
11/28/22
Mw
$249
$249
2
Any Day
11/29/22
12/5/22
N
$199
$249
2
Any Day
11/29/22
12/5/22
W
$213
$213
7
Any Day
11/29/22
12/5/22
We
$249
$249
2
Any Day
11/29/22
12/5/22
Mw
$199
$199
2
Any Day
12/6/22
12/12/22
N
$199
$249
2
Any Day
12/6/22
12/12/22
W
$213
$213
7
Any Day
12/6/22
12/12/22
We
$249
$249
2
Any Day
12/6/22
12/12/22
Mw
$199
$199
2
Any Day
12/13/22
12/19/22
N
$199
$499
2
Any Day
12/13/22
12/19/22
W
$370
$370
7
Any Day
12/13/22
12/19/22
We
$499
$499
2
Any Day
12/13/22
12/19/22
Mw
$199
$199
2
Any Day
12/20/22
12/26/22
N
$499
$499
2
Any Day
12/20/22
12/26/22
W
$499
$499
7
Any Day
12/20/22
12/26/22
We
$499
$499
2
Any Day
12/20/22
12/26/22
Mw
$499
$499
2
Any Day
12/27/22
12/31/22
N
$499
$499
2
Tu,W,Th,F,Sa
12/27/22
12/31/22
We
$499
$499
2
Tu,W,Th,F,Sa
12/27/22
12/31/22
Mw
$499
$499
2
Tu,W,Th,F,Sa
Check Prices
Click on the map to activate it
Amenities:
Full Kitchen
Refrigerator
Coffee Maker
Microwave
Toaster
Cookware
Oven/Stove
dishwasher
Dishsoap
Paper Towels
Dishes
Air Conditioning
Ceiling Fans
Linens
Ironing Board
High Speed Internet
Outdoor Washer Dryer
Hair Dryer
Smoke Detectors
Shared Pool
Treasure Island Boutique Suites
Treasure Island
Shared Pool
Nearby ATM
Nearby Post Office
Nearby Internet Cafe
Nearby FedEx
Nearby Bank
Area FitnessCenter
Nearby Medical Services
Nearby Grocery
Nearby Golf Course
Corner Market
Restaurants
Nearby Movie Theaters
Museums
Art Galleries
Deck
Gas Grill
Outdoor Shower
Shared Pool
Table
Chairs
Near Beach
Johns Pass Boardwalk Nearby
Nearby Golf Course
Beach Combing
Photography
Parking
Nearby Marina
Nearby Local Shops
Nearby Playground
Nearby Tennis
Nearby Fishing
Nearby Jet Ski Rentals
Nearby Paddle Board Rentals
Nearby Deep Sea Fishing Trips
Near Beach
Close to Town
Near Bay
Near Marina
DVD Player
Wireless Internet
Laptop Friendly
Roku TV
Hulu with Live TV
Policies:
| Check-In | Check-Out |
| --- | --- |
| 16:00 | 11:00 |
8. CANCELLATIONS MUST BE MADE IN WRITING. CANCELLATIONS MADE WITHIN 60 DAYS OF ARRIVAL DATE ARE SUBJECT TO TOTAL FORFEITURE OF ALL FEES. CANCELLATIONS MADE PRIOR TO 60 DAYS OF ARRIVAL DATE ARE SUBJECT TO A PENALTY UP TO AND INCLUDING 50% OF THE RESERVATION COST. I authorize my credit card to pay for all damages, missing items, or other costs caused by any member of my party in excess of the coverage of the Damage Waiver Fee. It is your responsibility to inform of any potential problems with your reservation or to make alternate payment arrangements. Any alternate payment arrangements must be in writing and mutually agreed upon by Guest and / Tech Travel LLC – NO EXCEPTIONS. THERE ARE NO REFUNDS FOR ANY REASON within 60 DAYS prior to check in date. By initialing this contract section, you are agreeing to adhere to the cancellation policies above.
Nearby Activities in Treasure Island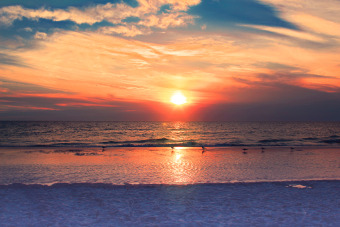 Ad Number: 627929 2222-167151
Viewed: 2364 times.
Updated: Sep 05, 2019
All information provided is deemed reliable but is not guaranteed and should be independently verified.
Note: BeachHouse.com does not own or manage any of these properties.
Please contact the property manager or homeowner directly by using this form.